Youth Activities (Religious School) 3 Years - 7th Grade
Welcome!
Welcome to 2022-2023! Our Youth Activities (Religious School and Family Education) have been evolving, and we are so excited to welcome you back to Temple Emanuel to share them with you. Our programs this year will be offered in person and online.
Reminders
"Religious School Enrollment" includes Hebrew. There is no separate enrollment needed. pk-3rd grade will continue using the Hebrew Through Movement" Program. 4th-7th grade will have an hour of Judaics and an hour of Hebrew on Sundays. *If you feel like your child needs more Hebrew enrichment, please reach out to Kathy Horewitch for Hebrew tutoring.
Families must be members of Temple Emanuel to register for Youth programs (Religious School). If you are not a member and are interested in joining, please contact Susan Chayet Director of Membership, at chayet@emanueldenver.org prior to filling out your registration
Before your family's enrollment is confirmed you must submit your students' immunizations records to Molly Smith at smith@emanueldenver.org
Families will receive information pertaining to the "kick-off" of the year, including class placement and new protocols, before the start of the program.
If your family is in need of scholarship, please reach out to Brad Cohen, Director of Youth and Family Learning at cohen@emanueldenver.org
In order to complete registration, we are asking all families to pay for Religious School in full as you register. Shul-cloud does give you the option to pay over a period of months.
Youth Activities (Pre-K through 7th grade)
The year is broken up into three trimesters. Families will register for the year and 4th-7th graders will have a chance to choose Judaic classes for each trimester:

Echad (1st): September 11-November 30
Shtyim (2nd): December 4-February 23
Shalosh (3rd): February 25-May 7

Families who ski and take off 2nd trimester can access asynchronous work during that time to further their students Judaic and Hebrew skills.
The first in-person event will be held on Saturday, September 10th with a "Social and Havdalah" where your student can meet their teachers and get to know the other students in their class. (December 3rd and February 25th)
Each trimester will end with a Friday night Shabbat celebration with presentations from various classes. Friday Night Celebrations are on: November 18th, February 17th, and May 5th
The start of our official school year is: Sunday, September 11th, from 9am to 12:15pm.
The first online sessions for Judaics/Hebrew will be held Wednesday, September 14th, from 4:30-5:30p.m. or 6:00-7:00 p.m.  *Virtual Judaics/Hebrew is not "supplementary" to school on Sundays.
All grades (Pre-K-7th) grade cost $450 for the 2022-2023 year. 
4th-7th grade Families: After you register and submit your child's immunization records, you will receive an email regarding how to choose Judaic classes for the year. Classes will be limited in capacity so choose your classes early.
We have family education programs this year. Learn more about Family Engagement.
Pricing Breakdown
JUST Religious School: $450 per child for the year
BOTH Religious School + Family Education: $650 per child for the year
JUST Family Education: $450 for the year per family
JUST Virtual: $450 per child for the year
Introducing our Youth Activities Full-time Staff
Brad Cohen is our Director of Youth and Family Learning. Brad is responsible for setting the overall vision of all our Family Engagement and Learning at Temple Emanuel including the Rabbi Steven Foster Early Learning Center, Shwayder Camp, HaBayit: The home for Temple Emanuel Teens, and Youth Activities. Brad is entering his second year and is excited to continue to build our program. Contact Brad at cohen@emanueldenver.org.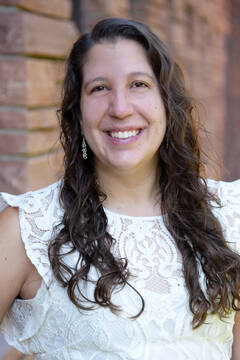 Jocelyn Rosenberg is our Director of Youth Education and Engagement. She will be running all of our programs for PreK through 7th grade, including the Max Frankel Religious School, Youth Group, Madrichim, and Family Engagement. Jocelyn has spent 17 years in education and has been teaching at the Temple for the past 4 years. She is excited to begin a new full-time journey filled with Community, Learning, Kavanah (Intention), and Fun! Feel free to reach out anytime to Jocelyn at rosenberg@emanueldenver.org.
Kathy Horewitch is our Hebrew and B'nai Mitzvah Coordinator. Kathy has been in Jewish education for over 20 years, sparked by her desire to allow students to learn to love being Jewish. She is excited to expand her role at Temple Emanuel. She looks forward to supporting your students as they learn to love Judaism as she has. Contact Kathy at horewitch@emanueldenver.org.
Molly Smith grew up at Temple Emanuel, attending religious school, Hebrew School, Confirmation, and assistant teaching. She attended IST in the summer of 2000, graduated with honors from Hebrew High School, and was a counselor at Shwayder Camp during the summer of 2001. Molly returned to teaching at Temple Emanuel when her daughter started My Jewish Discovery. She is excited to work with the team to build the Youth Activities program! Contact Molly at smith@emanueldenver.org.
COVID-19 Protocols
All protocols are created in collaboration with the Temple Emanuel Re-opening Task Force and are subject to change. More information will be provided as the school year approaches.
Wed, May 31 2023
11 Sivan 5783
Wed, May 31 2023 11 Sivan 5783